As far as awesome winter sports go, snowboarding is definitely one of the best. As far as sports injuries go, snowboarding is capable of inflicting some of the most painful injuries. Jason B. can attest to that fact after he sustained a Stage 5 Shoulder Separation while he was recently snowboarding in Vermont.
Jason injured his shoulder when he caught an edge on his snowboard (catching an edge is when a snowboarder is tripped up by the leading edge of their snowboard getting caught in the snow) and he had no time to even get his hands out to protect him. To make matters worse, the local doctors he went to see recommended against surgery for his shoulder injury, with no positive prognosis in sight.
Since Jason was not terribly keen about the prospect of permanently limiting his shoulders range of motion, having ongoing localized pain, painful clicking and popping, shoulder fatigue, and a lack of endurance, not to mention having an unnecessary permanent disfigurement, he did a web search to find a real solution.
His search to find an early stage treatment, using the keywords "AC Joint Shoulder Separation," yielded just the results he needed. He found Dr. Steven Struhl's website, and made an appointment right away. Jason met with Dr. Struhl, and learned of his Patented AC Joint Separation technique, so he elected to have Dr. Struhl perform the surgery. You can learn more about the AC Joint surgery and the effectiveness of Dr. Struhl's Patented technique by watching the video by clicking the above link.
Prior to Jason's successful surgery, his right AC Joint was 300% higher than normal, and now it is perfect! Jason says this was the "best decision he has ever made."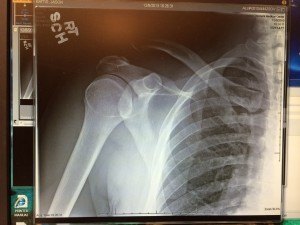 Jason views Dr. Struhl as a "miracle worker," who has allowed him to continue to do the things he enjoys in life, enjoying the full use of his dominant shoulder again.
We are so grateful that Jason is feeling better and found Dr. Steven Struhl, who has once again, proven himself as one of the finest Orthopedic Surgeons in New York.
Posted on behalf of Steven Struhl MD