AC Joint Reconstruction
---
Patient Testimonials – Steven Struhl MD
---
Horrific crash for a Cyclist on The River Road Route
The River Road route next to the Hudson River (just under the George Washington Bridge) is a popular ride for cyclists seeking a hill climbing workout near New York City.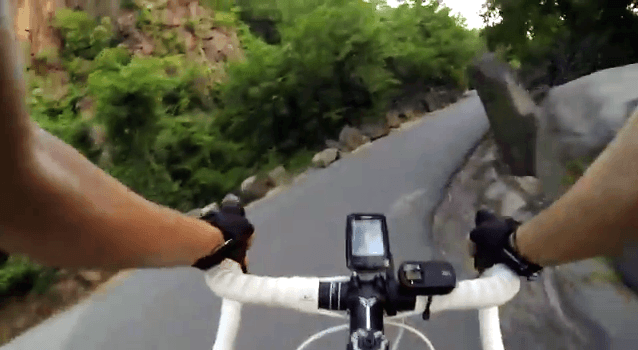 Peter C. is an avid cyclist and one day while riding the River Road route he suffered a horrific accident that resulted in a grade 3 shoulder separation and broken ribs.
"In early August 2013, I had a freak and horrible bicycle accident that left me with a number of serious injuries including an AC joint separation type 3. And that at the age of 67 plus.
I spent three days in the intensive care unit out of a week in the hospital, and seven weeks in a rehab center.
After six months I recovered completely, except of course, my separated shoulder. I got a 100% rotational movement of my arm, had good strength and could use my arm as before. However, I could not do upper- body strength workouts like before, and at about 2 1/2 hours into a ride I would begin feeling fatigue on the side of the injured shoulder. In addition, I could not pull up on the handlebars on uphills while out of the saddle like before. While running I would feel a lack of support in my shoulder when I would pick up the pace.
When the accident happened I was devastated. I was in great shape, and as always, healthy. I would give anything to get my physical integrity back and that's what I wanted. I wanted a surgery from the beginning, but my shoulder doctor at the time of the accident did not want to operate. He kept telling me that I could have the operation later and that it would be the same, but I was questioning that. The wound and the ligaments were fresh at the time of the accident and could be utilized in the reconstruction of the shoulder providing live support again. At the time, I was bed ridden for two months and was trying to recover from my other injuries, which included a fractured pelvis, six broken ribs, and a pneumothorax all on the same side. I kept thanking God it wasn't worse. I was lucky. When I was discharged by my shoulder doctor, I was told he wasn't going to operate on me.
In October 2014, I discovered Dr. Steven Struhl on the Internet. I knew immediately that he was the doctor I wanted, the doctor I could trust to be operated on. It was important to me that I had no doubt. I called and made an appointment, went to see him, and I was booked for surgery one week later. I was happy and excited, and could not wait for the time of the operation. I was happy because only by an operation could my ac joint separation be repaired.
Dr. Struhl did a fantastic job and I feel as good as new. I now have my physical integrity back again, which I was shocked to lose and was longing to get back. Thank you, Dr. Struhl, I was sure you would do it, and many thanks to Shauna and your warm and welcoming staff.
I feel good and whole again. I don't have any issues and I'm enjoying my bike and running again."
Read Peter's story River Road bike disaster resulted in a Type 3 AC Joint Separation
– Peter C.
Type 3 AC Joint Separation
---
Gimbels Ride wreck and Grade 4 AC Joint Separation
Gimbels Ride is Westchester's premier and longest running race pace group for cyclists in the Northeast. Gimbels Ride has been featured in Bicycle Magazine due to its popularity among very competitive cyclists over the past 50-60 years.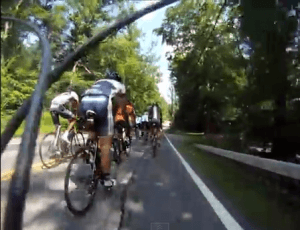 Mike D. is a competitive cyclist who competed in triathlons and biathlons and the Gimbels Ride was the perfect competitive race group to hone his skills. Unfortunately, he was riding in a pack and a cyclist ran into him. The crash resulted in him having a grade 4 AC Joint Separation.
After he went to four to five different "shoulder specialists" in Westchester County, and disgusted with the recommendations like, "Leave it alone…fix it down the road…wait and see" "It was painful and I could not see living like that", explained Mike D.
Read Mike D's story Gimbels Ride wreck and Grade 4 AC Joint Separation
– Mike D.
Type 4 AC Joint Separation
---
Shoulder Separation from Snowboarding
As far as winter sports and injuries go, snowboarding is one of the sports that someone can sustain a serious injury. Just ask, Jason B. who suffered a grade 5 AC Joint Separation while he was snowboarding in Vermont.
While Jason was enjoying tearing up the mountain, he caught an edge on his snowboard and had no time to even get his hands out to protect himself. Unfortunately, his local doctors recommended against shoulder surgery. The idea of having limited range of motion, continual pain, and lack of endurance was unacceptable to him.
Read Jason B's story AC Joint Separation from Snowboarding…FIXED!
– Jason B.
AC Joint Shoulder Separation