Ben Roethlisberger, the talented quarterback for the Pittsburgh Steelers suffered a shoulder injury after being driven into the ground during a hard sack by the Kansas City Chiefs. Luckily for him that's all it was. Not so lucky were the likes of Jake Locker QB for the Tennessee Titans as well as a host of other top tier athletes from the pros to the college ranks. An AC joint separation is nothing short of serious and this is something that Dr. Steven Struhl M.D knows all about.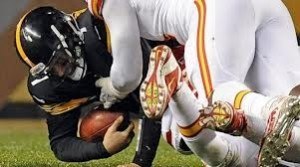 A Game Changer
Dr.Struhl understands that the shoulder (just like the knee) is a complicated machine that can't just be fixed using regular methods. Dr.Struhl's patented surgical procedure and technique not only strengthens and reinforces the shoulder but it also allows the shoulder to retain its full range of movement and motion after the surgery is complete and the rehab is finished. Simply put, by the end of everything you'll have a normal, strong and healthy shoulder joint to rely on once again. This is what the elite NFL athlete to an everyday person is looking for and wants after it's all said and done.
The Best of the Best
Based in New York, Dr.Struhl knows the importance of being the best at what he does and his credentials speak for themselves. AC joint separation surgery is his specialty. From your initial consultation to the rehab after the surgery you're treated with the respect and care that you deserve. He's straightforward, to the point and his patented procedure has people not just from the New York area coming to be diagnosed and repaired, but people and patients from all across the US.
The patients he's had can't say enough or give enough thanks for how he's helped them get back to a normal life after suffering their AJ joint injury. Dr.Struhl has established himself as the top surgeon in his field with his patented AC joint surgical procedure and isn't that what everyone wants when it comes to an injury? To be treated by the best? To have your normal everyday life back, pain free? Dr.Struhl can do just that.
Why Wait?
Have a look at Dr.Struhl's site it gives you everything you need to know about his patented AC joint surgery procedure. What to expect from your initial consultation to the rehab afterwards. You can also research his many articles as well as look through pictures that describe his procedure and what your injury looks like from the inside. Use the contact us page to help setup your appointment for evaluation through either e-mail or just pick up the phone and call. Why wait? Call and start you road back to a normal, pain free, fully functional life.
Posted on behalf of Steven Struhl MD