Suffer an AC Joint Separation Injury on Your Mountain Bike?
With this gorgeous weather happening around us, it's the time of year when we pull out our mountain bike and take to the trails. Enjoying the endless skylines and amazing scenic trails encourage adventure while off-roading. Whether it's the challenge and escape that drives us, or the extreme sporting that steers our passion; injuries are still a factor despite all the mechanical advances to reduce the wear and tear on the body.
Shoulder Injury Common in Bike Accidents
Mountain Bike injuries happen to even the most experienced athlete, and they chalk it up as a part of the game. When a serious injury like a separated shoulder has you sidelined, you want the best orthopedic surgeon managing your care.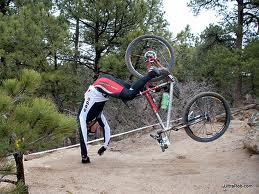 A separated shoulder is the second most severe injury a cyclist could suffer from in a bike crash. This type of shoulder injury is known as acromioclavicular joint separation – for short AC joint separation and occurs from blunt force trauma. The cyclist will most likely experience this when taking the rough trails while going downhill, during impact with another cyclist, or impact with a natural element such as a tree or boulder.
Old Treatment Modalities Have Been Replaced with More Effective Treatments
In the past, athletes would put off seeing their doctor for fear of surgery and the 'down time' they would have during the prime season. Living in the moment is awesome, but regrets can last a lifetime so bare in mind that there are amazing advancements in science. Surgical procedures aren't always necessary, but if you do require that assistance is it not better to seek out the best to get you back on the trails?
Living in the moment is an inspiring notion, but take a moment to look at the big picture. You are suffering from a shoulder injury, it may be nothing, you could take the chance of waiting and mulling through the pain until the off season at which time you discover that you've created such irreversible damage that you now require reconstructive surgery and may now be out of commotion completely, but hey, at least you enjoyed your last season – right?
The other option is to embrace the 'Live in the Moment' mentality while caring the right knowledge with you so you can get back to what you love to do as soon as possible. Know that there are doctors that specialize in these types of injuries and will not push surgery as 'the only option.'
Separated Shoulder? Get the Help You Need from the Separated Shoulder Specialist!
Dr. Steven Struhl is a prime example of an orthopedic surgeon who embraces non-surgical procedures. Dr. Struhl comes highly recommended for his various approaches to athletic injuries and embraces non-surgical procedure methods of recovery whenever possible. Dr. Struhl encourages all athletes to seek out proper medical attention at the earliest stages of pain and discomfort so any damage incurred can be assessed promptly to avoid surgery; but should an athlete require surgery from their bike accident his U.S. patented AC joint separation procedure is less intrusive only requiring one relatively small incision to do the job.
Go to the One That Knows!
Remember, hind sight is always twenty-twenty therefore go to the doctor that knows and has the reputation and experience to back him up!
Contact Dr. Struhl's Westchester or New York office and his helpful, knowledgeable staff will happily assist you in booking your appointment so you can find out first hand why his clients recommend him.
No More Regrets
So when you take to the trails, tuck this information into the back of your mind, and remember – you don't have to suffer. Healing is merely another form of training for you to get back into the sport you love!
Posted on behalf of Steven Struhl MD