Gimbels Ride is Westchester's premier and longest running race pace group for cyclists in the Northeast. The Gimbels Ride has been around for 50-60 years for very competitive riders and has been featured in Bicycle Magazine. During the Summer time you could expect to see over 65 riders.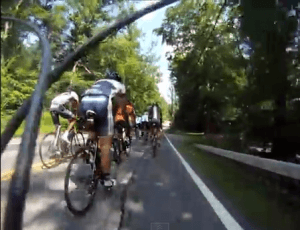 For Mike D. a competitive cyclist who competed in triathlons and biathlons, the Gimbels Ride was the perfect competitive race group to hone his skills until a rider in his pack ran into him and he suffered a grade 4 AC Joint Separation.
Mike D. went to 4-5 different "shoulder specialist" orthopedic surgeons in Westchester County, and he was disappointed with the recommendations like, "Leave it alone…fix it down the road…wait and see" "It was painful and I could not see living like that", explained Mike D. Therefore, he began his thorough research online on different techniques to fix his shoulder separation.
Mike shared his frustration that he found several different procedures to fix his ac joint, but no one seemed to be able to agree on a reliable fix. Hearing that "some times it works and some times it does not." made him skeptical. "A lot of doctors do the attachment and tie down with knots, but I could not get a straight answer on if they also fixed the ligaments." , stated Mike D.
Determined to find a solution so he could get back to the active life he enjoyed, he found Dr. Steven Struhl's AC Joint Separation website with his U.S. patented "closed loop double endobutton" shoulder separation surgery technique. He explains, "After reading about the procedure that Dr. Struhl developed it seemed simpler and a better idea. Where the loop was stronger, more reliable, and smaller incisions It just made sense to visit Dr. Struhl's sports medicine office in Westchester." During his visit, Dr. Struhl explained everything in-depth and he explained that he knows that his "continuous loop" ac joint separation technique works, and that Dr. Struhl also felt that he could repair his ligament.
Mike decided to have his shoulder separation repaired by Dr. Struhl and is thrilled with the results. His shoulder is almost as good as new. Over time his shoulder got better and better and stronger and stronger. Mike is now lifting as much weight as he was prior to the surgery and still doing his 3 sets of pushups and pullups, and is back to riding every weekend.
Posted on behalf of Steven Struhl MD